Did anyone else hear a homily yesterday about the dangers of greed and affluent American lifestyles and the need to support the Church and give alms to the poor? With readings like these, no wonder! And of course there is ready correspondence with the words of Pope Francis, from his inaugural homily to his homily for the feast of Corpus Christi. He calls for a "Poor Church for the poor," and says that it breaks his heart to see priests and nuns driving the latest model of a car.
This theme touches home with something that I have struggled with a great deal for the last few years, and continue to struggle with more and more. How much should I give to the poor?
I am not a rich man, by American standards but I make a decent amount of money and I have fairly simple tastes. I generally spend less than half of what I make per month to live on, and manage to afford most of my wants without dipping too far into my savings. I could even start a pretty comfortable retirement fund. As the priest who said the vigil Mass I attended on Saturday pointed out, "The poorest person sitting here in church is still the envy of most of the world's population." In other words, the fact that someone is much richer than I am does not negate the fact that I am much richer than 90% of the world's people.
So what is to be done?
I do not even like the formulation: "How much of my money should I give to the poor." Even in asking the question I betray my lack of generosity. It really should be: "How much can I possibly afford to give away?" But then I have to come to grips with the fact that I really could afford to give away about 75% of my monthly income, and still get by quite comfortably. I could shore up some of my spending habits, tighten the belt on Amazon.com, for instance. I mean, why on earth should I buy a half dozen new books when I have nearly a hundred sitting on top of my bookshelves that are ostensibly on my "to-read list?"
So is that it? To get rid of everything that is not strictly necessary for life and fulfilling our obligations?
Some certainly are called to that. Being a minimalist by nature, I can actually see the appeal. (Seriously, I am a born minimalist. As a little kid I really hated getting Christmas presents that I did not have a use for. I knew they would end up as clutter in the closet and and would collect dust and have to be taken out and "cleaned up" and re-organized periodically, which was such a drag. Eventually they would simply be donated and take up space in someone else's house. Board games were an especial pet peeve! If it wasn't a gift certificate to Barnes and Noble, or legos, or something I had a legitimate use for, I was not interested. Talk about affluence!) So as a minimalist I like simplicity, and not owning more than I actually have a use for. If I have not used it in the last 12 months, I probably won't miss it in the next 12 months; but that is not the same as being poor in spirit. It is more akin to being lazy. I simply dislike clutter, and I dislike the effort of maintaining things I do not have a use for.
Even being poor is not the same as poor in spirit. Material poverty is not intrinsically holy. Some people are certainly called to total renunciation. Others may be called to something a little different. The concept of ownership, I think, is
where it breaks down. I am not sure where I can truly be said to "own" anything. In what sense is it mine? The "I" that owns this thing (a hat, for instance) is not even master of the head upon which it places that had. I was placed in this body without my permission or even consent, or even awareness for that matter. I shall be removed from this body, in all likelihood, under similar conditions. I cannot even maintain, except by intimate, moment by moment gift, control over this body which is so intimately me. How much less, then, can I say "mine" of the clothes that festoon that body? The food that body eats? The air that body breathes? The concept of ownership is a bit of a misnomer in that sense.
(Before the Republicans start freaking out, I am not arguing against the right to personal property, as that would be heretical. I am simply trying to define it.)
Instead of ownership in the positive ontological sense, personal property is a conditional thing, not essential. It is simply a way of saying that I happen to have control of this thing, for the time being. In any schema that makes logical sense within the Christian world view this can only be viewed as a sort of trusteeship. God gives what He gives as a sort of test/object lesson, rather like a father handing over the keys to the car to see how the teenager will handle that responsibility.
Combine the concept of ownership as trusteeship, or stewardship, with an idea of the purpose of material things. The purpose of human life is to come to know, love and serve God. Love is the only thing that lasts, because God is love, and only God is of Himself eternal. Therefore, the goal of charity (by which I mean caritas, agape, not almsgiving) is to bring the neighbor to a knowledge of love. To extrapolate from St. John, how can a person believe in the love of the God he cannot see, if he has never known the love of the brother he can see?
This is why I have to reject a liberal, socialist interpretation of the Pope's message, and the message in the Readings from this Sunday. Simply distributing the wealth is not the answer. Our charitable work, in my opinion, is judged by love, not by dollars and cents. A dollars and cents approach is not wrong because it costs too much or takes too much away. It is wrong because it distracts us from giving what really matters.
I am not a fan of schemes for bringing ever single human being on the planet to the same mediocre economic level. I am not a fan of impoverishing libraries, museums, the Vatican, etc. in order to purchase subsistence. Subsistence, i.e. food, clothing, shelter, and basic medical care must be provided for every human being on the planet. Our responsibility as a Church is no less than that. It is, in fact, a good deal greater. Purely humanist organizations will attempt that much, though they do not do nearly as good a job of it.
In short, it is not enough for us to provide mere survival for as many people as possible. Even survival is only a secondary goal, as far as Catholics are concerned. Our true goal is salvation, to make people holy, to attract people to holiness. This holiness is synonymous with wholeness, holistic integration of mind, body, soul and spirit, all ordered to our final end, which is union with God. That is true caritas.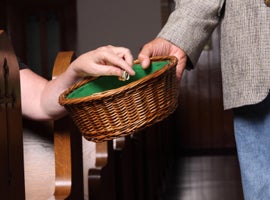 Everyone is called to that mission. Some are called to one level, providing nutritious soup lunches for the homeless, for example. Others are called to another level, say, teaching CCD classes. Still others are called to yet another level, that of giving up everything and voluntarily joining the poor in their poverty. Others are called to retain their level and to draw others out of poverty by providing them with meaningful work. Parents take part in this work by providing their children with a full education, which may include such things as books, music lessons, art supplies, field trips, mission trips, and even sports equipment. As long as these expenditures are ordered to the end of making their children into complete human being, that is, intrinsic parts of an education in Love, that is money as nobly spent as any thoughtlessly (or guiltily) tossed into the special collection basket after Mass.
In a way, asking, "How  much should I give to the poor?" is a bit of a cop out. Giving things away is easy. It misses the full weight of responsibility placed upon us every second of every day to give our very selves in love to everyone around us. Trusteeship, I think, is where most of us are called. It is a real poverty of spirit, to see everything you own as being given to you to share with others. Attendant upon this poverty of spirit is all the necessity of thinking, reasoning, discerning, and training our hearts in love, that our charity may truly be caritas.