A little late to our symposium here on "mercy and killing."  The "and," our editor informed us, was meant to keep the subject broad – and boy was it! Many commented specifically on mercy killing and euthanasia while others took a completely different approach, talking about just mercy in general, the death penalty and even robots. I've greatly enjoyed reading the articles in this series and I think it's been an important discussion to have considering how many evil acts are committed today in the name of "mercy" and "compassion."
For my contribution, let's talk a little bit about assisted suicide, shall we?
First off, G. K. Chesterton called suicide the "ultimate and absolute evil" because it is:
the refusal to take an interest in existence; the refusal to take the oath of loyalty to life. The man who kills a man, kills a man. The man who kills himself, kills all men; as far as he is concerned he wipes out the world. (Orthodoxy, ch. 5)
Harsh words. But true. Read more here.
Generally speaking, I would say that most people still do consider suicide and unacceptable answer to pain and suffering and want to prevent it when possible, but that sentiment often changes when the suicidal person is terminally ill or suffers from some serious physical disability. Then, suddenly, suicide becomes a "right."  The problem is that most people in these situations can't actually kill themselves, so they have to lobby state and federal governments for "physician assisted suicide." Commenting on a recent appeal to the Supreme Court in British Columbia to overturn the country's ban on assisted suicide (which a judge ruled in favor of yesterday), my friend Mark Pickup said:
The push for assisted suicide is the natural conclusion of personal autonomy gone amuck.

Gloria Taylor wants assisted suicide for herself which is different from suicide because it obviously requires assistance — a coarsening of some other person's conscience. The eyeless "I" of assisted suicide1 does not consider the consequences to others.
Yes, the "right to die" movement has certainly managed to lead a successful campaign based on "choice", love of comfort and radical self-autonomy.  This billboard campaign launched by Final Exit Network a few years ago says it all (and sounds awfully familiar, does it not?):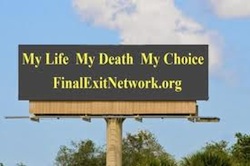 Every time I hear people talk about my life, my body and my choice, Gianna Jessen's powerful words ring in my ear, "the arrogance…don't you realize that you cannot make your own heart beat?'  I am also reminded of something Fr. Neuhaus said in his book "Death on a Friday Afternoon"
"Many cite Shakespeare: 'This above all, to thine own self be true, And it must follow, as the night the day, Thou canst not be false to any man.' But they forget, or never knew, that Shakespeare intended Polonius to be the fool of Hamlet's tragedy."
Indeed. We are a "self" obsessed society. One must "find" oneself and be "true to" oneself or one's own selfish desires, even if they are at odds with the Church, natural law and basic morality and, in the case of assisted suicide, even if it means asking or demanding something that may hurt others. But, here is the real Truth of our selves:
"Do you not know that your body is a temple of the holy Spirit within you, whom you have from God, and that you are not your own? For you have been purchased at a price." (1 Corinthians 6:19-20)
And here, I suggest, is a better "motto" to strive to live by:
"I have been crucified with Christ; yet I live, no longer I, but Christ lives in me" (Galatians 2:19-20)
Life is a gift. Our task is to receive it, cherish it and live it – in good times and in bad, even through sickness and old age. Of course, that means enduring a fair amount of suffering and therein lies the real problem. If he culture of death is rooted in anything (besides selfishness and pride) it's an inability to meaningfully connect with human suffering.
Popular culture tells us that pleasure alone translates into "living life to the fullest," so we try to avoid pain rather than move through it, which means we can never triumph over it or transcend it.
We think that  we are taking control by pushing all that is imperfect and difficult out of our sights, when all we are really doing is betraying our own fear and how it controls us.
Instead of being owned by this fear, I propose that we trust in Christ who tells us, "do not be afraid, little flock (Lk. 12:32). Take up your cross and follow me. For my yoke is easy and my burden light (Mt. 11:30)." Remember, ours is not a God who is unable to sympathize with our weaknesses, but one who has similarly been tested in every way (Heb. 4:15), who gave himself up unto death for us so that we would not have to suffer alone.
In his second encyclical, Spe Salvi, Pope Benedict said that it is not fleeing from suffering that heals us, but our willingness to accept it, grow and mature through it, and find meaning through union with Christ, who suffered with infinite love. For more on finding meaning in human suffering, fellow IT contributor Marc Barns wrote a masterful essay last month on "why Christianity is far more sensible than whatever you're doing right now."
The real bottom line is this. Even in the midst of extreme suffering, even as our bodies deteriorate and we lose control of some of our basic bodily functions, we are still human beings. Our lives still have meaning and, I would propose that it's not always as bad as it seems, or it doesn't have to be. Dying time can be good time and life with a disability is not as awful as you might think.
Quoting my friend Mark again, "Death is not a right, but an eventuality that will visit us all regardless of what any law may state." Likewise, "Death with dignity is not an event, it is the natural conclusion of having lived with dignity." If we want to die with dignity, let's first be concerned about living with dignity.
Finally, I want to add one practical note of caution to 'right to die' enthusiasts: it is not a giant leap from 'right' to 'duty' no matter what 'safeguards' are put in place. We've already seen a few cases here in America of how vulnerable people can be bullied into assisted suicide when it's legal and, while the exact numbers are a bit fuzzy, involuntary euthanasia is a growing problem in the suicide-friendly Netherlands. Of course, this isn't a surprise when you consider the sinister history of the concept that human beings have a 'right to die.'  I don't like to throw around Nazi comparisons, but I think it's important to remember how the groundwork for the holocaust was laid out well before the Nazi's came to power.
[author] [author_image timthumb='on']https://www.ignitumtoday.com/wp-content/uploads/2011/08/Chelsea-Zimmerman.jpg-e1313149001215.png[/author_image] [author_info]Chelsea Zimmerman is an associate editor/author for CatholicLane.com. She blogs at Reflections of a Paralytic.[/author_info] [/author]