As if there wasn't enough pressure from our society to "couple up" – at least temporarily – we also have an entire day solely dedicated to celebrating romantic love. As a single person myself, I don't really get worked up over the whole Valentine's Day "thing" (although, these days, being in the last year of my 20s and with most of my friends settling down and starting families, I can tell you, my biological clock sometimes sounds more like a ticking time bomb). But for those who do feel a little left out or alone today These Benedictines have some advice:
[I]f today you are alone and feeling that there is no one very much to care about you, and no one in particular for you to love in return, consider this: by virtue of your baptism you are espoused to him before whom the sun and moon bow down. Jesus is not your boyfriend, but he loves you more than you could ever possibly imagine.
Blessed Marcel Callo also has good advice for those looking for love:
I am not one to amuse myself with the heart of a lady, since my love is pure and noble. If I have waited until I was 20 years old to go out with a young lady, it is because I knew that I wanted to find real love. One must master his heart before he can give it to the one that is chosen for him by Christ.
Finding real love can take quite some time, but we should never let ourselves settle for less. Nor should we give our hearts (or our bodies) too freely or foolishly in search of that love. God alone is the One who can and will satisfy our every desire. Establish a relationship with Christ first and build on that relationship so that He may a.) create in you a clean heart and guard you against impurity and b.) lead you to a worthy, suitable companion (if that is your calling). Then, remember to keep God as the "third party" in your relationship to be your glue, your bond, your wingman.
A little Valentine's Day trivia:
-Today is the feast of Sts. Cyril and Methodius, not St. Valentine.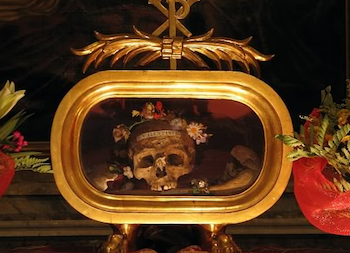 -There are actually multiple St. Valentines, many of whom are martyrs. Which is appropriate, since love – real love – is a total gift of self. Quoting St. Therese of Lisieux: Love is nourished only by sacrifices.
-True story. Using Jen Fulwiler's "Saint's Name Generator" to find my patron saint for this year I got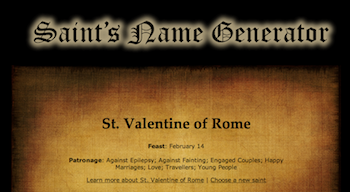 As a single-almost-thirty-year-old, I could easily read way too much into this, but I don't want to get my hopes up. So, for now, I will just pray:
O St. Valentine, lover of Christ and of the Church, we ask your intercession that we may learn how to love God above all things, and to selflessly love one another. O glorious St. Valentine, pray for us, that we, too may have the steadfast faith of the martyrs. Amen.
Happy Valentine's Day! You are loved. Let yourself be loved!
P.S. meet my Valentine 🙂
Also recommended:
Our Lady of Sorrows & Valentine's Day
Single Living in a Couple's World
A Single's Valentine
Valentine's Day and the Feeling of Loving
Chelsea Zimmerman editor-in-chief for
Catholic Lane
and a managing editor for Ignitum Today and Catholic Stand. She often writes about life issues and Catholic spirituality and has been featured on EWTN's
Life on the Rock
. Last year she started the pro-life video series
BioTalk
. Her website is
Reflections of a Paralytic
.